One-Sheet Honey Dijon Salmon and Summer Veggies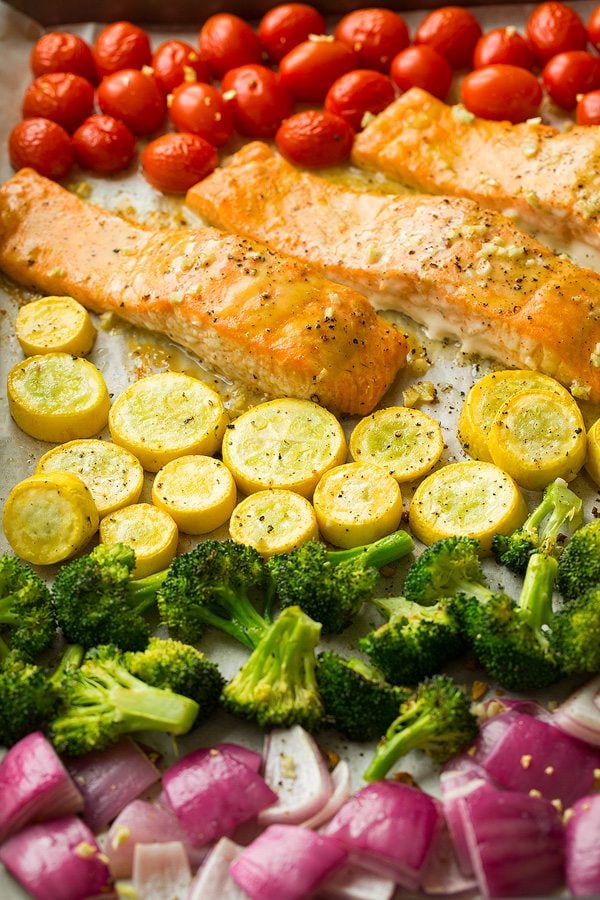 We are loving the new trend of sheet pan meals! It's an easy, fun way to make great meals. Everything is cooked on one pan to minimize clean up and you can get creative with what you make. Mix and match seasonal veggies, lean meat, and your choice of sauce for endless dinner options.
This one-sheet meal is a favorite! Salmon and veggies is a healthy and delicious meal and we top this one with an amazing honey dijon sauce to make it even better. Yum!
What you need:
- 1 medium yellow squash, sliced
- 2 cups broccoli florets
- ½ medium red onion, chopped
- Olive oil
- Salt and pepper
- 1 tablespoon Dijon mustard
- 1 tablespoon honey
- Juice from two lemons
- 3 cloves garlic, minced
- 1 cup grape tomatoes
What you do:
1. Toss squash, broccoli, and onion, separately, in oil, salt, and pepper.
2. Place veggies on parchment paper lined baking sheet and bake at 400° for 8 minutes.
3. While veggies are roasting, combine mustard, honey, 1 teaspoon oil, 1 clove garlic, and lemon juice in a small bowl. Also, toss tomatoes in olive oil, salt, and pepper.
4. Remove veggies from oven. Add tomatoes and salmon to baking sheet.
5. Brush salmon (top and bottom) with honey mustard mixture.
6. Bake for another 12-15 minutes or until salmon has cooked through!
7. Enjoy!
Originally published by Cooking Classy.
| | |
| --- | --- |
| | The Excel Chiropractic Team |